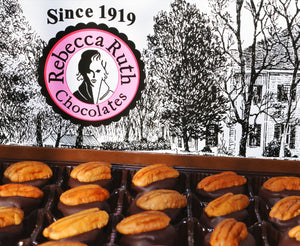 16 oz Rebecca Ruth Bourbon Ball Chocolate Candy
Regular price $55.00 Sale
Invented in 1938 by our very own Ruth Hanly Booe, the original bourbon ball chocolate. A spirited Kentucky bourbon center cream dipped in our Rebecca Ruth® dark chocolate and crowned with a Southern pecan. The bourbon adds oak flavor tones, with the chocolates adding cocoa and earthy tones, and the cream center adding vanilla and caramel tones.
Product History:
Ruth Booe invented Bourbon Balls.
The idea of mixing candy and bourbon together was accidentally suggested by a dignitary at Frankfort's sesquicentennial celebration in 1936. She stated that the two best tastes in the world are Mrs. Booe's candies and fine Kentucky Bourbon. Mrs. Booe worked on the recipe for two years before perfecting the still-secret process for blending bourbon and candy. And then history was made when "Bourbon Balls" were born!
There are 32 pieces in a 16 oz box.